Jim Meck Writes and Performs New Song for Laura Araujo and Her Memorial Service at The Art Institute of Philadelphia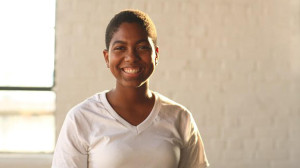 This amazing story began with an invitation to go to the beach. My great friend and sax player Glenn Hofmann asked me if I wanted to go to Long Beach Island at the end of July. I would stay with the neighbors, cialis canada look Sandy and Frank Smith. There was a hitch. He could not get me home in time for my weekend gigs. Being blind and unable to drive, transportation is always an issue for me. So, the plan we chose was for Frank to drive me to Absecon, NJ and take the NJ Transit train to Philadelphia's 30th Street Station. There I would need to make the connection to the Septa line that runs to Lansdale. From there, my wife would pick me up at the station. This was the first time I ever rode a train myself, and the first time I was on this sort of train since I was 13 and going to Wills Eye Hospital to be diagnosed with Retinitis Pigmentosa (RP). I wasn't sure how I was going to switch trains, but I trusted in the assistannts (redcaps) and the goodness of mankind. A gentleman helped me at the station to get to the Septa line where a very nice lady was waiting for the Lansdale train as well. She agreed to help me. Her name is Alison. As we rode the train, I learned that Dr. Alison Paster is the Director of Fashion at the Art Institute of Philadelphia.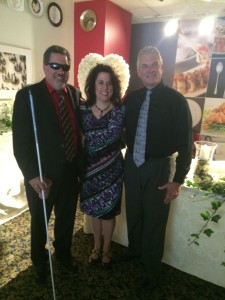 As we chatted about her work at the school and my music, as well as our families, she began to share the tragic story of a recent graduate of the Art Institute. Laura Araujo, 23, was robbed and murdered in Philadelphia in July. She had been quite a young lady. She had been President of the Fashion Network Club at the school, worked with Oscar de LaRenta in New York for fashion week, and interned at Philadelphia Style Magazine. There was going to be a memorial service at the Art Institue in September. As we discussed all of this, we began to realize that I might be able to help with the service.
The service was planned for September 9, 2014 and I was going to play special music as well as prelude music and Glenn was to accompany me. As I tried to discover songs that were appropriate, a few came close, though not quite perfect. These included: "Candle in the Wind", "Tears in Heaven", "Lullaby (Goodnight My Angel)", among others. As I learned more about Laura and her family, I began to feel that a new song would be the best. So I wrote "For Just a Little While (Laura's Song)". Glenn and I hit the studio to record it five days before the service. Dr. Paster created a CD for the family. I also uploaded a video to YouTube that my son Alex (who will attend the Art Institute of Pittsburgh – a sister school) created. Glenn's wife Debbie also transcribed the music and we signed and presented this handwritten copy of sheet music to the family as well.
The service was beautiful with many people sharing stories, poems, and songs. Dave Roberts from 6ABC News also spoke and brought a message from the Mayor. The event was covered by 6ABC News and aired at 11:00 that night.
It was quite an amazing journey with a roller coaster of emotions. In the wake of this tragedy, several new friendships were formed, Glenn and I were able to share our gifts of music for others, and hopefully a family will find peace and comfort as they move forward, never forgetting Laura, but cherishing the time they had together. All of this for me started with an invitation to the beach.
Jim